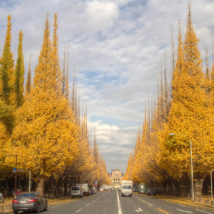 Now that 2020 Tokyo Olympics are over, at the site of the National Stadium a redevelopment plan to enable the construction of high rise buildings and commercial facilities within the Meiji Jingu Gaien is underway.  Concerns have been raised about its plan to fell nearly 1,000 trees in a Landscape Conservation Area (Fuuchi-chiku), a rare green oasis in central Tokyo.
Meiji Jingu Gaien, Tokyo
Despite little public consultation, and facing opposition from some Committee members and representatives from ICOMOS (an advisory body of the UNESCO dedicated to the conservation of the world's monuments and sites), the redevelopment plan for Meiji Jingu Gaien (Meiji Shrine Outer Garden, usually called Jingu Gaien) area was approved by the Tokyo Metropolitan Government Town Planning Committee on the 9th February 2022.
The redevelopment site covers about 66 hectares in the Jingu Gaien area, located east of the Meiji Shrine which was erected to commemorate Emperor Meiji.  It contains sports complex such as Jingu Baseball Stadium, Chichibunomiya Rugby Stadium and tennis courts as well as children's play area and Meiji Memorial Art Gallery.
Jingu Gaien is located in three wards of Shinjuku, Shibuya and Minato in Central Tokyo, and is just a few minutes' walk from Metro Aoyama-itchome station and Gaienmae station.
Landscape Conservation Area
Designated as Japan's first Landscape Conservation Area ('Fuuchi-chiku') in 1926, Jingu Gaien is renowned for its natural landscape, a rare green gem within the Yamanote Loop Line area which is densely built up in Central Tokyo.  The park is also famous for a row of large Ginkgo trees which turns into a golden tunnel in the autumn.
It is no coincidence that this area still retains its natural surroundings in the middle of this urban jungle near Shibuya and Shinjuku.  In the past, concerted efforts were made to preserve the natural beauty of the Landscape Conservation Area setting through strict Town Planning regulations, such as imposing a 15m building height limit in the designated area and prohibiting the felling of trees.
However, such regulations were relaxed when Tokyo bid for the 2020 Summer Olympics, with its plan to rebuild the National Stadium as the main venue for the games.  At the Tokyo Metropolitan Town Planning Committee meeting in May 2013, the height limit for the new Stadium site and surrounding area was suddenly changed from 15m to 75m with limited discussion and with the  full support of the Committee members.
Redevelopment Proposals
The redevelopment plan proposed by the private sector consortium of Mitsui Fudosan, Meiji Shrine, Japan Sport Council and Itochu is expected to be complete in 2036.  The plan involves re-locating and re-building both the baseball and rugby stadiums, as well as constructing high-rise buildings (185 m and 190 m in height) with offices and other commercial facilities.  3.4 hectare of park land would be lost to accommodate this project.
Felling 1000 Trees
According to the redevelopment proposals, the developers plan to cut down 971 trees out of approximately 1900 that currently stand within the red dotted line area in the plan, including almost 100-year old trees that were originally planted when the park was made in the 1920s.  Although they propose to plant 979 new trees in an attempt to make up for the loss of greenery, it would take years for these to fully mature.
Professor Mikiko Ishikawa (Chuo University Urban Environment Planning), a board member of ICOMOS, voiced concerns that such trees are an invaluable natural asset to Jingu Gaien, one of Japan's most important cultural heritage sites. 
Yet despite their pleas to the Tokyo Metropolitan Government to have a full discussion about the proposals and take a more considered approach before the Committee met, the Committee went ahead on the 9th February, voting 22-3 in favour of the redevelopment proposal.
There has been some public opposition to the proposals to fell trees, but it seems the details of the redevelopment proposals have not been widely shared with the general public and other interested parties due to an absence of meaningful consultation process.
Tokyos's Hyde Park/Central Park
Jingu Gaien is Tokyo's equivalent to Hyde Park in London or Central Park in New York, and there would be public outcry if similar proposals were made for Hyde Park or Central Park.
At a time when there is little in the form of domestic scrutiny, and a lack of international awareness largely due to Japan's Covid-19 entry bans on foreign nationals,  the Tokyo Metropolitan Government, the developers, and landowners, who expect to earn a huge profit out of the proposed development, will be able to proceed with the redevelopment proposals if left unhindered.
However, if they do go ahead, we would be allowing the destruction of 100-year old trees that are the legacy of our ancestors, planted not just for us but for the appreciation of future generations.  These must be protected and not replaced with the forest of skyscrapers that last half that time.
Petition:Protect Jingu Gaien's trees! Rethink the development plan!
https://www.change.org/p/protect-jingu-gaien-s-trees-rethink-the-development-plan
Francais
https://www.change.org/p/prot%C3%A9gez-les-arbres-de-jingu-gaien-le-plan-de-r%C3%A9am%C3%A9nagement-doit-%C3%AAtre-r%C3%A9vis%C3%A9
Deutsch
https://change.org/p/der-park-um-den-meiji-jingu-gaien-ist-bedroht…
中文https://change.org/p/%E8%AE%93%E6%88%91%E5%80%91%E4%B8%80%E8%B5%B7%E4%BE%86%E4%BF%9D%E8%AD%B7%E7%A5%9E%E5%AE%AE%E5%A4%96%E8%8B%91%E7%9A%84%E6%A8%B9%E6%9C%A8-%E8%AB%8B%E9%87%8D%E6%96%B0%E6%80%9D%E8%80%83%E7%99%BC%E5%B1%95%E8%A8%88%E5%8A%83…